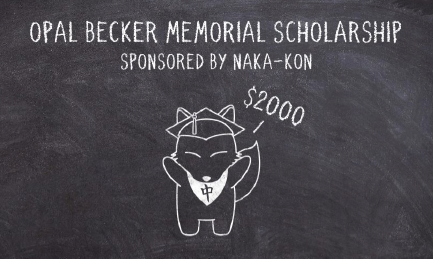 ​
Opal Becker Memorial Scholarship
The Opal Becker Memorial Scholarship is an academic scholarship funded through the donation by the family of Opal Becker and Naka-Kon Japanese Education Association. The scholarship is available for college students who are studying Japanese language, art, and culture and for students who have plans to study abroad in Japan.
Two scholarships will be awarded during the year with one awarded during the spring months and the other during the fall months.  Students attending an accredited institution are encouraged to apply!
Next Application Deadline: February 15, 2020
Scholarship Application Details
About Opal Becker
The family of Opal Becker has graciously donated the start-up funds for this opportunity.
Opal Becker was born in 1920, in the now-defunct town of Bigelow, Kansas. She attended Huff Business College in Kansas City in 1939. Upon completion of the one year course, she took a job at the Kansas Department of Health where she worked as a secretary for 53 years. Opal's free time was spent with friends, family, and in the service of others. During World War II, she was active in the American Women's Volunteer Services, and the United Service Organization (USO). After the war, she volunteered at Winter VA Hospital. She gave her time for many years ushering for the Topeka Civic Aids and volunteered at Stormont Vail Hospital, the Kansas State Historical Society Gift Shop, and in the office at Countryside United Methodist Church. However, Opal did occasionally take time for herself, loving to travel, play cards, fish, and camp. She had kindness, grace, poise, patience, humor, tenacity, endurance, humility, and a positive outlook, no matter what life threw at her.
Opal Becker passed away in July of 2016. Her philosophy on life is best described in a poem she had hanging in her home (author unknown):
"The yesterdays are shells we shed, the best is always on ahead. There's always some new world for winning. Every end is a new beginning."