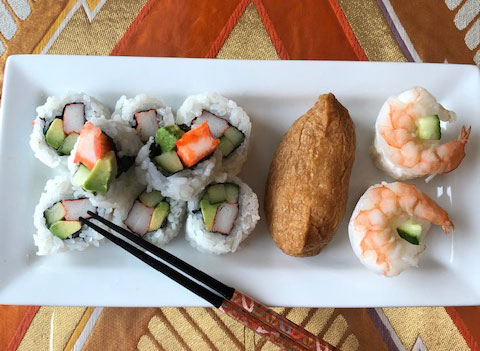 Sushi is not just a roll with seaweed or rice ball with raw fish on top. You can create your own sushi with the ingredients you like. This course will go over the easiest way to make sushi for everyone, and attendees will be able to enjoy the sushi that they make after the course.
Location
Courtyard by Marriott Convention Center, Meeting Rooms A-B
Level
Suited for beginner level
Menu
California rolls, Inari sushi, Shrimp nigiri
Instructor
Hiroko Keightley from Heart of America Japan-America Society (More info on the society can be found at kcjas.org)
Membership Badge Required
Register at https://naka-kon.com/registration.
| Session | Time | Price |
| --- | --- | --- |
| Homemade Sushi 101: March 13, 2020 | 7:30 p.m. | $10.00 |
| Homemade Sushi 101: March 14, 2020 | 8:30 p.m. | $10.00 |