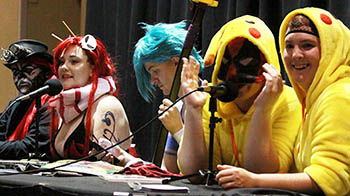 Fan panels are always a core element of our programming each year at Naka-Kon, and we always appreciate the support from those who wish to host a fan panel.
If you're interested in presenting a panel, please fill out the fan panel application.
2021 UPDATE: If you have yet to buy or rollover a badge for 2021, you may still fill out a panel application.  Approved panelists will be able to purchase up to three badges total once their panel is approved.  Badges should only be for panelists presenting the panel.  We encourage you to buy a badge as they become available rather than waiting for panel acceptance emails that will be sent 1-2 weeks after the application deadline.
Any further questions about panels can be directed to programming@naka-kon.com.