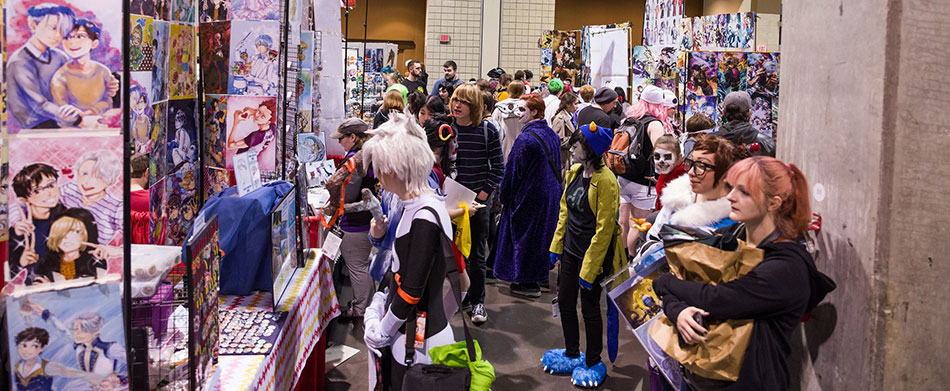 Every year, Naka-Kon strives to design a diverse and exciting Exhibit Hall. From reliable fan favorites, to new and exciting vendors and artists, our hall is always changing. While we wish accepting every application in the order submitted was possible, we sometimes have to put an applicant on hold to make our final determinations. Limited space is the primary reason we cannot accept every applicant. Diversity is another reason, because oversaturation of our hall with the same or similar artists and vendors is poor business practice and unappealing to the attendees. While we want a fun and exciting hall, it is also important to us for you to enjoy yourselves and make money too!
Vendor Room Hours
These are the hours Exhibit Hall B is open to convention attendees.
Friday, March 13, 2020

VIP:  2:30 pm to 4:00 pm
All Attendees:  4:00 pm to 8:00 pm

Saturday, March 14, 2020

VIP:  9:30 am to 10:00 am
All Attendees:  10:00 am to 6:00 pm

Sunday, March 15, 2020

VIP:  9:30 am to 10:00 am
All Attendees:  10:00 am to 4:00 pm
No 18+ Material Allowed in the Exhibit Hall
Because the Overland Park Convention Center prides itself on being a family friendly venue, vendors are not permitted to sell any mature material (18+).  If you have questions or concerns about any of the products you intend to sell, please contact beth.hall@naka-kon.com with your inquiries. 
Bootleg Program
Bootleg merchandise is not allowed in the Naka-Kon Exhibit Hall. If you are found selling bootleg merchandise, you will receive one warning and asked to remove any bootleg material from the premises. If you are found selling bootleg material subsequent to the first warning, you will be asked to leave the convention without a refund.
In addition, your company will be placed on a list that Exhibit Hall staff will refer to when reviewing future applications for Naka-Kon.
For more information on how to spot a bootleg, visit http://www.otakunews.com/piratefaq.php.