Every year, Naka-Kon strives to design a diverse and exciting Exhibit Hall. From reliable fan favorites, to new and exciting vendors and artists, our hall is always changing. Open all three days in Exhibit Halls A and B, you can often find exactly what you are looking for from our variety of artists and vendors.
Friday
VIP Attendees: 3:30 pm to 4:00 pm
All Attendees: 4:00 pm to 8:00 pm
Saturday
VIP Attendees: 9:30 am to 10:00 am
All Attendees: 10:00 am to 6:00 pm
Sunday
VIP Attendees: 9:30 am to 10:00 am
All Attendees: 10:00 am to 4:00 pm
*Subject to change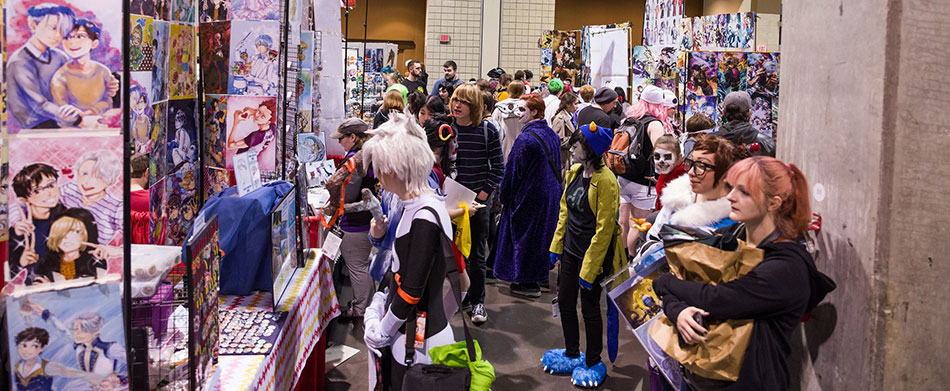 This year Naka-Kon will have a special exhibition in the Vendor & Artist Hall, Traveling Kimono Exhibition: Kimono Through Time presented by Tangerine Mountain. This exhibition will highlight antique and modern kimono fashions and items. The exhibit will be open all weekend while the Vendor & Artist Hall is open.
Visit the Traveling Kimono Exhibition page for more information.
No 18+ Material Allowed in the Exhibit Hall
Because the Overland Park Convention Center prides itself on being a family-friendly venue, vendors are not permitted to sell any mature material (18+). If you have questions or concerns about any of the products you intend to sell, please contact vendors@naka-kon.com with your inquiries
Weapons Policy
No weapons may be sold or carried on hotel and convention center premises. This includes but is not limited to live steel, guns (including AirSoft™ guns), boken, shunai, kunai (throwing stars), etc.
Imitation products of weapons are allowed. Any questionable products may be subject to removal from the exhibit hall upon request by a Naka-Kon staff member.
Please review the full convention weapon policy.
Bootleg Merchandise and Artificial Intelligence Generated Artwork
Bootleg merchandise and artificial intelligence (AI) generated artwork is not allowed in the Naka-Kon Exhibit Hall. This includes artwork derived in whole or in part from AI technology.
If you are found selling bootleg merchandise or AI-generated artwork, you will receive one warning and be asked to remove the items from the premises. If you are found selling bootleg materials or AI-generated artwork subsequent to the first warning, you will be asked to leave the convention without a refund.
In addition, your company will be placed on a list that Exhibit Hall staff will refer to when reviewing future applications for Naka-Kon.
For more information on how to spot a bootleg, research the following resources: