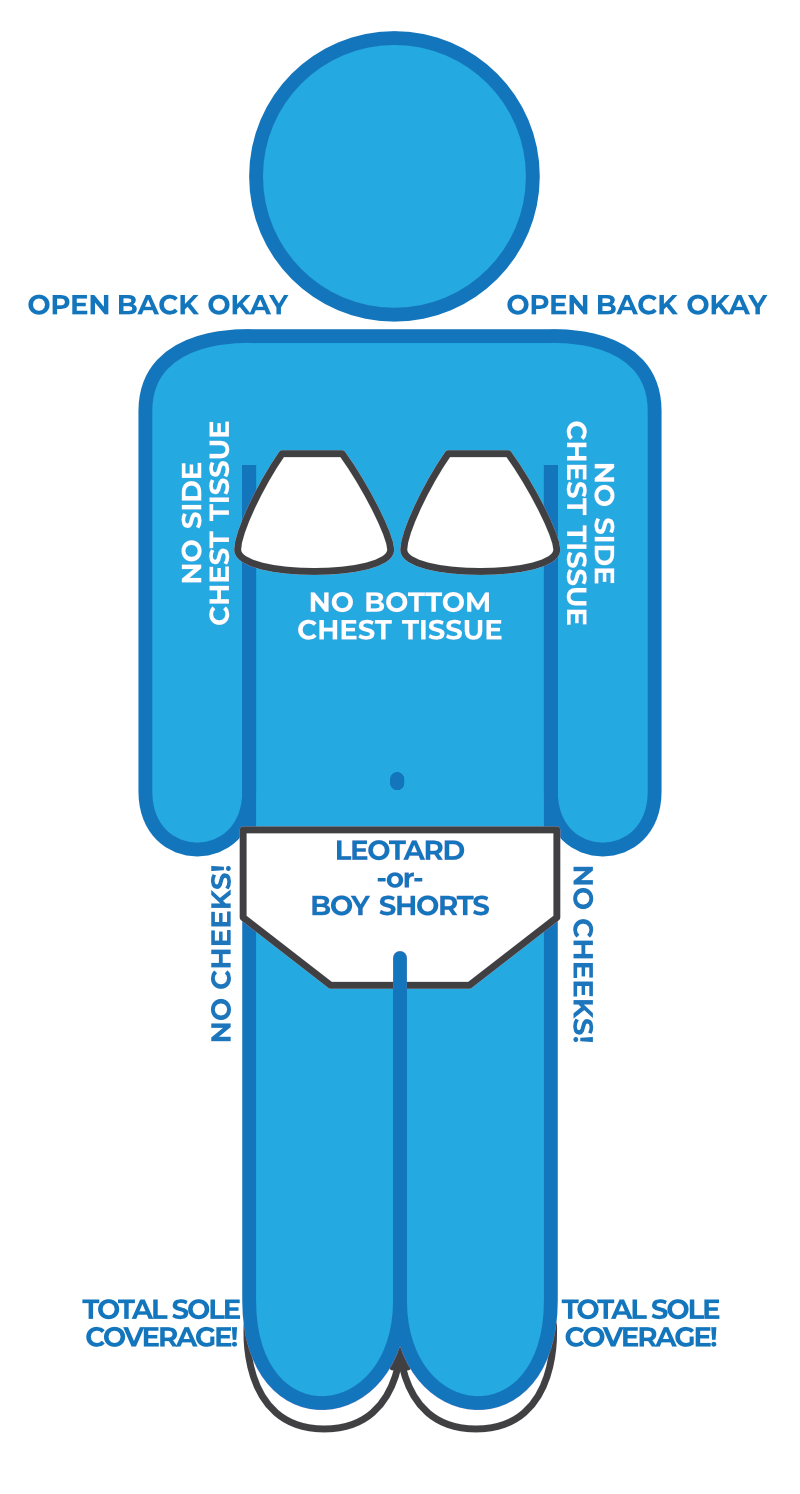 Please wear your badge in an easily visible location at all times.
No sheer clothing, visible underwear, or swimsuit cosplays.
Objects with wheels, such as skateboards, Heelys, or scooters, are not allowed. Exceptions include necessary transportation (wheelchairs, walkers, etc.).
Ahegao style clothing or cosplays are not family-friendly, and thus are prohibited.
Wings should have a wingspan under seven (7) feet.
Oversized cosplays or those on stilts require a "handler" to be with you at all times. Please dismount stilts before using elevators or escalators, and keep all oversized cosplays off the escalators.
Race-facing, Nazi imagery/cosplays/chants, and political cosplays are not allowed. Any cosplay determined to be demeaning, belittling, or mocking will also be prohibited.
Cosplaying as a Naka-Kon staff member, or as a member of any real-life local or federal law enforcement agency, is strictly prohibited.
Naka-Kon and our host locations want to provide a welcoming environment for everyone, and we encourage you to express yourself! We ask that all of our attendees use common sense when deciding what to wear, and please keep in mind that Naka-Kon is a family-friendly convention. Naka-Kon reserves the discretionary right to determine that any clothing or cosplay is inappropriate. The dress code below has been provided for you as a guide to comply with the Overland Park, Kansas Municipal Code regarding public nudity and safety requirements. If your clothing or your cosplay is unable to meet our dress code requirements or is deemed unacceptable by Naka-Kon, a member of our staff will ask you to resolve the violation. If a second warning is necessary, it may result in Naka-Kon revoking your badge and/or having you removed from convention space.
While attending Naka-Kon, badges should be worn so that they are clearly visible during the duration of the convention, even while cosplaying! You don't have to have them around your neck, but if our team members have to stop and ask to see your badge, then it isn't very visible! Attendees, guests, staff or vendors caught giving their badge to anyone else are subject to removal from convention space and/or having their Naka-Kon membership revoked.
Nudity is strictly forbidden by the city and state laws of Overland Park and Kansas. Your underwear (bras, boxer, panties, briefs, lingerie, etc.) and everything they cover should not be visible in public space. These laws also prohibit the exposure of any device, costume or covering which gives the realistic appearance of or simulates bare buttocks, genitals or nipples.
All cosplays, costumes, or clothing worn at Naka-Kon must cover the following:

Your butt (yes, ALL of it)
Whatever you keep between your legs
Your nipples

Wearing just tape or pasties over them doesn't count, because you must also cover...

The bottom and side areas of your breast tissue!

No matter your gender, or lack thereof, this rule still applies to you!

Again, your underwear. Please. For the kids.



The above areas must be covered completely (fishnets don't count unless you've got something on under them!), and opaquely (no sheer clothing). Vests and capes may be worn if they are tied shut and won't fly open.

Swimsuits should only be worn while going to and from the hotel pool areas, and are not a suitable substitution for clothing in convention areas. In addition, cosplays (especially those involving glitter, body paint, etc.) are not suitable substitutions for swimsuits in hotel pools, so make sure to double check that you've packed yours!
Ice skates, with or without blade covers, are NOT allowed in Naka-Kon convention space
To comply with health and safety standards, PLEASE, keep something solid between the sole of your foot and the ground at all times! When secured to your feet, solid surfaces, like cardboard or clear sandals (if you want to look barefoot), will help keep your feet protected. If a member of our staff sees you wearing socks without shoes on, or if your clear sandals are just that great, we may stop you!  
Levitation, teleportation, and things with wheels are not acceptable forms of transportation while at Naka-Kon. Wheelchairs and other mobility aids are excluded from this rule.  
Props should be under 7ft. in length. If your cosplay involves wings, we ask that you keep the total wingspan under seven feet.
If you have a large cosplay or a cosplay that involves stilts, you must have a "handler" with you at all times. Your "handler" must purchase their own Naka-Kon badge, and should assist you through crowds and doorways. We ask that you use the elevators for large cosplays and that you dismount from the stilts before using the escalators.
Using signs as a part of a cosplay can be a great way to bring out the character in you! Using signs to get things such as free hugs or money is considered soliciting, which is against the rules of Naka-Kon's host locations. Infractions of this rule will result in the confiscation of your sign, and could result in removal from convention property or having your badge revoked.
Naka-Kon is an educational convention committed to creating a safe and fun environment for the whole family. Please bear this in mind as you choose your clothing/cosplay and understand that cosplays that represent culturally insensitive, derogatory, and/or mocking subject matter are prohibited by Naka-Kon. Politically themed cosplays are prohibited.

Some examples of inappropriate cosplays include, but are not limited to: intentionally changing your body features to mimic the racial features of another real-life race, dressing as a Nazi or using Nazi slogans/imagery, and/or using a cosplay to belittle or demean others.
Objects used in such cosplays will be confiscated and returned to the owner in exchange for their convention badge. Further consequences are up the discretion of the Operations and/or Access Control directors and may include membership revocation if you refuse to have your object(s) confiscated.
Ahegao style clothing or cosplays are not family-friendly, and thus are prohibited.

Dressing as or otherwise impersonating a Naka-Kon staffer, or a member of any local or federal law enforcement agencies, is strictly forbidden. Fictional agencies do not fall under this rule.
Naka-Kon believes in your right to cosplay any character regardless of your weight, age, skin color, gender, disability, or size. If you feel that you have been subject to body shaming or any other harassment, please find a member of our staff to help you or make your way to the Access Control office in the Redbud room (lower level of the Sheraton).
If you have any questions about the dress code and how it applies to your cosplay, please feel free to email accesscontrol@naka-kon.com! We would be happy to let you know whether your cosplay plans match our requirements, so you don't have to make any last-minute adjustments.