Event Sold Out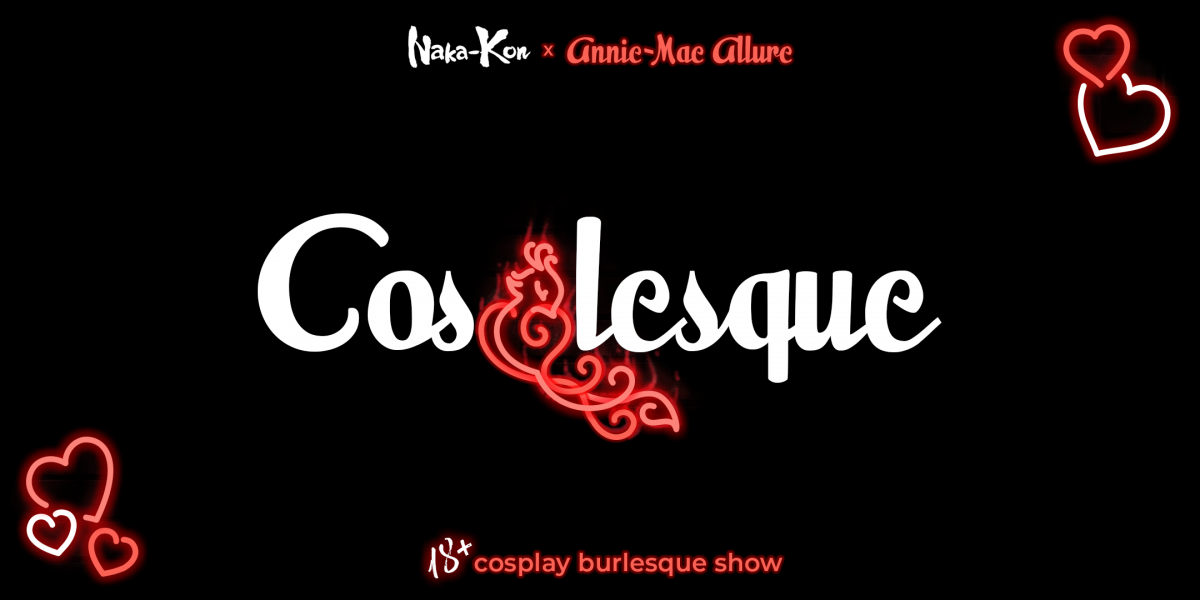 Cottonwood 3, Sheraton Overland Park Hotel
Friday May 27th from 11 p.m. to 12:00 a.m.
A cosplay burlesque show inspired by Japanese pop culture! This is an 18+ event.
What is Burlesque?
Burlesque is a theatrical presentation set to music and usually involving strip tease. It can be sexy, gory, funny, emotional, and so much more! Burlesque is for every BODY (18+) - regardless of size, race, gender, age, ability, body shape or sexual orientation. At Naka-Kon, there will be no full nudity, however, you will see some skin. If that makes you uncomfortable in any way, we advise you not to attend.
Check out the performers for this year here!
Expectations and Etiquette
This is an 18+ ticketed event so attendees will need to provide proof of ticket purchase as well as present their 18+ wristband at the door. See details on event registration below. Respectful audience participation is encouraged! If you like something you see, cheer! Clap! We want to hear your appreciation! But please don't have conversations during the routine - it's very distracting to the performers and we want them to be able to give you the best show possible. We also recommend watching with your eyes and not through your cell phone. Bringing cash for tips is also encouraged and appreciated, but not expected.
Physical Contact
Do not touch anyone, performer or patron, without their consent. Our performers are contractually obligated to obtain your consent before touching you as well. If giving tips, please ask for permission before touching any of the performers. Naka-Kon Harassment policies apply to both attendees and performers.
Behavioral Expectations
GENERAL NAKA-KON POLICIES AND BEHAVIORAL EXPECTATIONS APPLY! This is a safe space for EVERYONE. Racism, sexism, body shaming, and harassment of any kind are grounds for removal from the event, and if necessary, from the convention. If you have questions or concerns about a performer or another audience member, please contact access control or a nearby staff person.
Event Registration and Ticketing:
Please purchase tickets for Coslesque through the Eventbrite link. You will need to verify that you are at least 18 years of age or older.
Each ticket is $20 and only one ticket per attendee can be purchased. If you would like to attend with friends, please have them purchase their own tickets.
There will be no printed tickets handed out for this event. Please bring your Eventbrite receipt, either printed or saved on your mobile device, for entry.
You will need to obtain an 18+ wristband from Access Control at-kon. You will not be able to enter the Burlesque show without a ticket, Naka-Kon badge and an 18+ wristband. Wristbands will be available at the Access Control office located in the Sheraton Hotel, Redbud.
Membership Badge Required
A Naka-Kon 2022 convention membership badge is required to attend this event. Need a badge?
For questions regarding the event, please email cosplay@naka-kon.com