LAST UPDATED: July 9, 2021
ALL ITEMS SUBJECT TO CHANGE
GENERAL QUESTIONS
Why did you pick September 3–5 for Naka-Kon 2021?
These were the only 2021 dates available to us that were not in the first half of the year. With the uncertainty surrounding vaccine production and distribution at the time, we didn't feel that any earlier options were feasible for staff, attendees, and the local community's safety. We decided that the later date would allow us more time to plan additional safety measures while buying as much time as possible to help mitigate the spread of COVID-19.
We hope that the long weekend will give people time to both enjoy time with their family and to visit the convention.
Will Naka-Kon 2021 have a limited capacity?
Yes - our plan is to limit the capacity to 3,000 attendees this year. This cap is subject to change, and it is possible that we may slightly increase the number if we feel it is safe to do so.
Why are you limiting capacity when the nation is beginning to lift health mandates and other events are beginning to plan for full capacity?
There are multiple reasons for the limited capacity:
Safety
Seeing the nation slowly get back to normal is very encouraging, but last year, we experienced firsthand how drastically the situation could change in just 24 hours. The pandemic is still far from over. Many people are still not vaccinated, and COVID-19 continues to mutate and create new variants. With this in mind, we want to approach Naka-Kon 2021 very cautiously.
Limited space and reduced programming
This year, we will only have programming at the Overland Park Convention Center. There will be no programming in the Sheraton Hotel nor in the overflow hotels.
Programming has been reduced in scope for both safety and financial reasons. We are not planning any events where maintaining a safe social distance will be difficult (e.g., dances, concerts). In addition, due to the unfortunate cancellation of the 2020 convention, we took a massive financial hit. As a result, we are working with a much more limited budget for 2021.
Volunteer numbers
We are anticipating a reduction in volunteer numbers due to the change of dates and the pandemic's effects on volunteer availability. We do not expect the internal capacity to be able to host a large-scale convention.
If safety is such a concern, why not just cancel the convention this year?
Several years ago, we signed a multi-year contract with the convention center that included the 2021 convention year. Since the local government is not shutting down large gatherings or events at this time, we are contractually obligated to host a convention or pay a hefty cancellation fee. Due to the financial hit we took from last year's cancellation, we currently do not have extra capital to pay the cancellation fee. We encourage attendees to make attendance decisions based on their comfort level.
How will the limited capacity affect badges that were rolled over?
Those who rolled over their 2020 memberships were given the option to roll over to their choice of Naka-Kon 2021 (Labor Day weekend September 3-5, 2021) or Naka-Kon 2022 (Memorial Day weekend May 27-29, 2022). We are working with Eventbrite to roll out a form for those who know they will not be able to attend Naka-Kon 2021 to preemptively roll over to 2022. A similar process has also been utilized for vendors and artists.
Any remaining badges will be sold exclusively online until we reach capacity. We are committed to allowing the maximum number of attendees we can while still focusing on safety.
For pre-registered attendees who have questions pertaining to their rolled over membership, please email membership@naka-kon.com.
For artists and vendors who have questions pertaining to their rolled-over booth space, please email vendors@naka-kon.com.
I'm hesitant to get excited and buy tickets for something that's so out of your control. What's your backup plan in case you have to cancel again?
In the event of another cancellation, pre-registered attendees will have the option to either roll their memberships over again to 2022 or to request a full refund. We will not be rescheduling Naka-Kon 2021 to a later date. We are hoping that with the additional lead time afforded by the new dates and being able to observe other events during the year that this will not happen again.
What are Naka-Kon's considerations regarding postponement and cancellation?
Ever since the pandemic arose in the US, we have been working with our host facilities, the city of Overland Park, and the local health departments to determine the best ways to protect the health and well-being of attendees and everyone involved with the convention.
The sudden rise of COVID-19 rates forced us to close for the safety of attendees, staff, and the community at large. We postponed Naka-Kon 2021 from March to September to give as much time as possible for vaccinations and treatments to be developed and distributed, giving us the best chances to avoid another cancellation. We are continuing to monitor the situation closely and will inform attendees as soon as possible if plans need to be changed. As we all know, this is an unprecedented situation in the convention community, and we appreciate your flexibility with us as we all try to work through it.
Why did you pick Memorial Day weekend for Naka-Kon 2022? Why not keep the convention in March?
Since Naka-Kon 2021 has been rescheduled for Labor Day weekend, we wanted to maximize preparation time for the next convention. Based on the limited 2022 dates available to us, we believed that Memorial Day weekend would provide the most time to prepare (8 months instead of 6).
Is there a way I can help financially support Naka-Kon?
Yes, there are multiple ways to support Naka-Kon:
You can directly send a donation by visiting this page: naka-kon.com/donate
Donations will be processed through PayPal.
Purchasing Naka-Kon merchandise at naka-kon.myshopify.com
Purchasing items through the AmazonSmile program (smile.amazon.com) and choosing Naka-Kon Japanese Cultural Education Association as your charity of choice.
Naka-Kon appreciates any and all donations and support purchases to help us recover from the 2020 event cancellation.
COVID-19 SAFETY MEASURES
What do you plan to do to increase the safety of convention center staff, volunteers, guests, and attendees?
First, we strongly insist attendees practice enhanced basic hygiene strategies to help mitigate the spread of the virus (increased hand washing, using hand sanitizer, in addition to daily showers, wearing face masks with CDC guidelines and maintaining social distance. We are also working closely with our host facilities to ensure thorough cleaning and sanitization of the convention space. We will continue to monitor local, state, and national guidelines on the pandemic as more things change.
The CDC's new guidelines state that fully vaccinated people do not need to wear masks anymore. Am I still required to wear a mask at the convention even if I'm fully vaccinated?
All attendees, vendors, guests, and staff will be required to wear masks under the CDC guidelines at all times in the convention space regardless of whether they have been vaccinated or not. Masks will also be required regardless of age or medically granted exceptions. Please visit this page for the entire mask policy: naka-kon.com/rules/mask-policy
What if I refuse to wear a mask?
If you do not have a mask, you will not be allowed on convention grounds. As a private, ticketed event, we as organizers are allowed to set rules for mask requirements for everyone's safety at the convention.
Will the vaccine be required in order to attend Naka-Kon?
Currently, we will not require proof of vaccination in order to attend Naka-Kon, but we strongly recommend and urge all attendees who can to please get vaccinated before the convention. If you are in need of help finding a vaccine distributor near you, the CDC recommends checking https://www.vaccines.gov/
We will continue to monitor statistics such as reported infection rates and hospital capacity to determine whether it is safe to host Naka-Kon 2021.
Ref: https://www.coronavirus.kdheks.gov/160/COVID-19-in-Kansas
Ref: https://www.mayoclinic.org/coronavirus-covid-19/map/missouri
REGISTRATION
When will pre-registration open for Naka-Kon 2021?
Pre-registration will open on June 4, 2021.
Will you be selling badges at the convention, and will single day badges be available?
No, we will not be selling any badges on-site. All badges must be purchased online before badge pickup at registration, and we are only offering weekend badges for 2021.
For more registration information, please visit our registration page: naka-kon.com/registration
What is the cost of weekend badges?
Weekend badges will be $30 for adults and $10 for children 12 and under.
Will there be VIP badges for 2021?
No - there will not be VIP badges sold for 2021.
Will you be offering a group, educational organization, or military discount?
No, for this year we will not be offering any group, educational organization, or military discount. We plan to bring those discounts back in 2022.
I requested a refund for my Naka-Kon 2020 badge - when will I receive my refund?
Refunds have been processed for those who have requested one up through early May 2021. The funds have been transferred back to the card that was utilized for the payment.
I was part of a group registration for Naka-Kon 2020. Can a portion of our group request a refund while the other members be rolled over to 2021 and 2022?
No - once a member from a group requests a refund, the entire group will be refunded and the registration fee will be refunded to the card of the member who made the purchase. Similarly, we will not be able to roll over part of a group to Naka-Kon 2021 or Naka-Kon 2022.
How do I roll over my 2020 badge to 2021 and how will I know that my request has been processed?
Please follow the following steps to complete the rollover.
Please fill out the Rollover Request Form by August 1,2021. The form is now closed as of August 1st, 2021. Those who already have filled out this form do not need to fill it out again.

For those who submitted the form before June 5, 2021, an email was sent on June 7, 2021 to confirm that we received your request.
For those who submitted a request between June 5 ~ July 1, we will send a confirmation by July 15, 2021.
Requests filled out between July 1 through August 1, we will send a confirmation by August 15, 2021.

A unique discount code will be emailed to the person who originally purchased the badge. The following is the schedule of when the codes will be emailed:

Rollover request submitted before July 1, 2021 : by July 15, 2021
Rollover request submitted by August 1, 2021 : by August 15, 2021

Apply the discount code to the 2021 registration page. If applied successfully, complimentary badges will appear for you to choose from.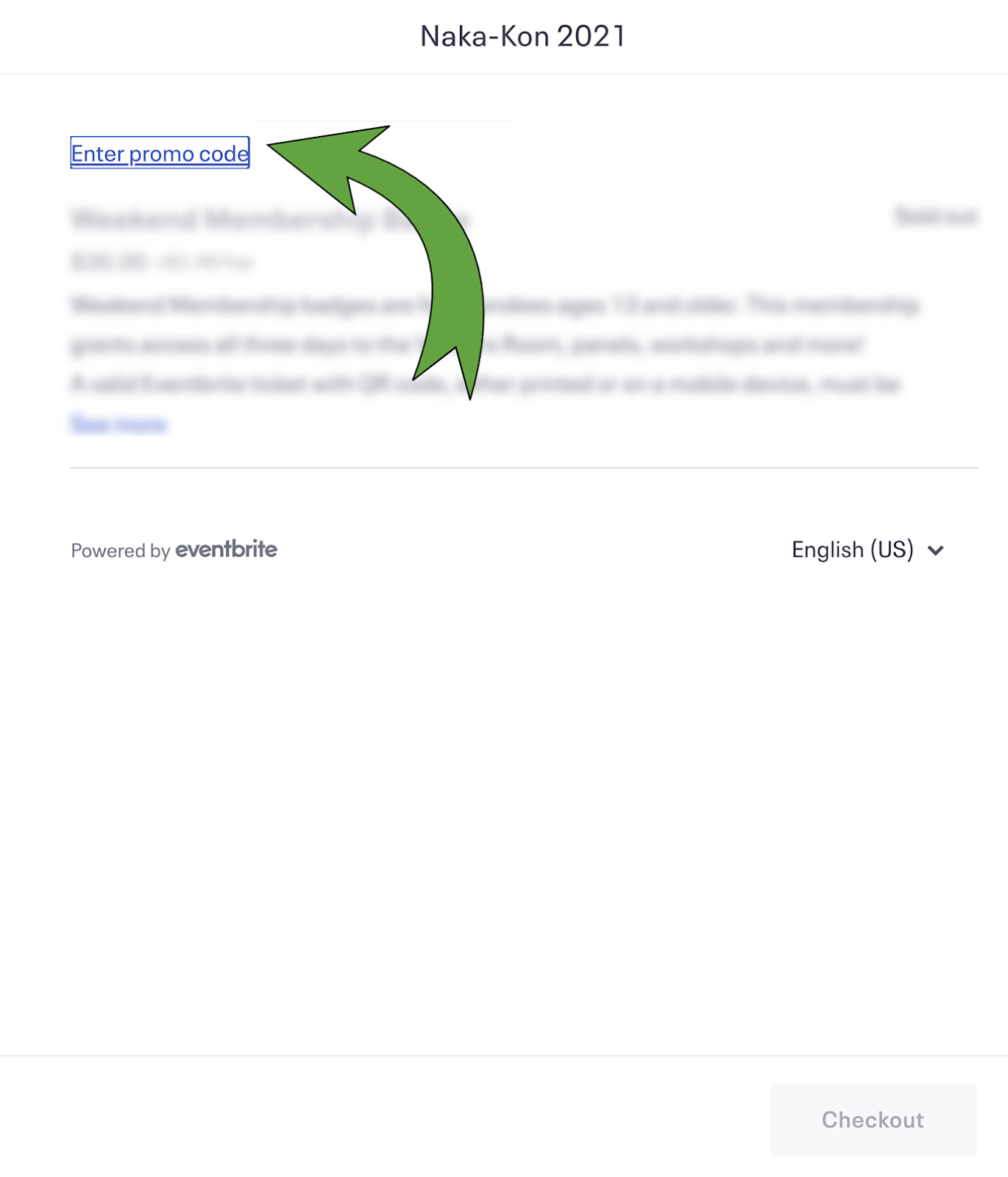 Please enter your information and complete the registration form. If you are entering more than one membership, the contact information for each badge must match the person using the badge.
Once registration is complete, you will receive a new 2021 confirmation message from Eventbrite. Please bring this new confirmation message either as a printout or on your mobile device along with your personal ID. You will need to show this confirmation message  the first time you enter the convention and when you pick up your badge.
When will I receive my partial refund from the roll over?
We will be processing the partial refund based on this following schedule:
Rollover request submitted before July 1, 2021 : by July 31, 2021
Rollover request submitted by August 1, 2021 : by August 31, 2021
I requested a 2022 rollover, when will I receive my confirmation?
We will send a follow up email by August 15, 2021 notifying you that we have received your request for Naka-Kon 2022. Then later this year we will send a 2nd follow up email providing you details on how you can complete your roll over to Naka-Kon 2022.
HOTEL
When will hotel room blocks open for Naka-Kon 2021?
Hotel room blocks will open on June 4, 2021.
Which hotels are offering convention room rates?
Please check the hotel page for the current list of room blocks and rates.
Are there suite rooms in the convention block?
There are no suite rooms this year in the convention block. Please contact and make reservations directly with the hotel if you are interested in a suite room.
Is Cloverleaf Suites available to book rooms?
No - Cloverleaf Suites (formally known as Chase Suites) recently closed its doors and is no longer in operation.
Will there be complimentary shuttle buses running between the overflow hotels and overflow parking lot?
No - we will not be offering the complimentary shuttle bus services this year.
Will the Kon Suite be available for those staying at the Sheraton?
No, we will not have the Kon Suite this year for those staying at the Sheraton.
EXHIBIT HALL
Are you accepting applications for the Exhibit Hall?
No, we are currently not accepting applications for the Exhibit Hall. We are currently waiting for vendors and artists who were scheduled to table at Naka-Kon 2020 whether they would like to roll over to 2021. Should we determine that we will have the space to accept additional vendors and artists, we will make an announcement on our website and social media.
I am a vendor or artist who was not accepted to be part of Naka-Kon 2020, but was on the waiting list for a last minute opening. Am I still on the waiting list for Naka-Kon 2021 or do I need to reapply?
If we do open applications for 2021, we ask vendors or artists who were on the waiting list for 2020 to reapply.
Will we have the same number of vendors and artists at the Exhibit Hall?
We are looking to expand the spacing within the Exhibit Hall to maximize social distancing. Therefore, we anticipate we will have fewer vendors and artists in comparison to previous years.
PROGRAMMING AND EVENTS
Will there be programming at the hotels?
No, we will not have any programming this year at the hotels. This also means that we will not have any dedicated anime or film screening rooms for 2021. There will be other private events at the hotels on the same weekend as Naka-Kon. We ask that attendees please behave respectfully towards the people attending those events.
Will there be a dance party, concert, or café?
Unfortunately, we are not planning on any events where maintaining safe social distancing and enforcing our mask policy will be difficult or impractical, particularly if masks would need to be removed to be able to enjoy the event. Sadly, we will not be hosting any dances, concerts, café, or food tasting events.
When will the schedule be available?
The schedule will be ready approximately one week before the convention.  We will only have a digital schedule this year (no paper copies), so make sure you download it on your phone in case you have poor reception in the convention area.