It seems that Tomo and her group of dedicated friends caught the attention of the Dragon, Seiryu last year. After a year of preparation and strategy sessions, our plucky Mascot is ready to face her newest challenge. Of course she won't be alone in her effort to protect Naka-kon. Her companions will be with her every step of the way.
The real question is… will you be part of history or watching it from the side lines?
Tomo, Inari, his helpers, and the rest of the crew can use your help to thwart Seiryu and Byakko's latest attempt to take over Naka-kon. Meet us at our events to see how to help Tomo remain as Naka-kon's favorite Kami!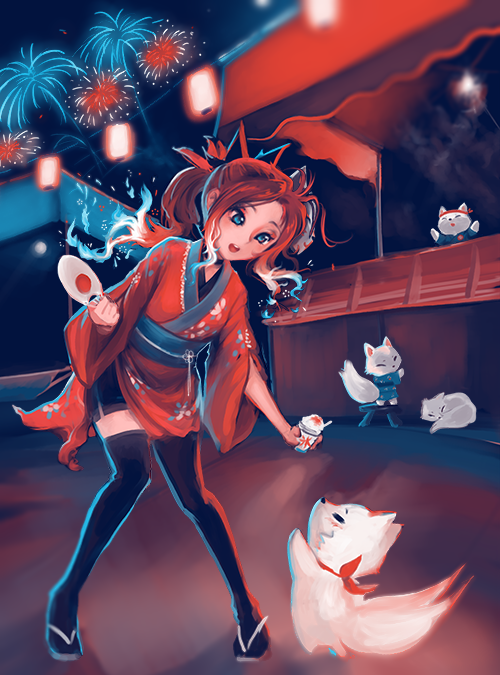 Summer Mystery (Natsu Shinpi)
Last year a murder most foul went unsolved. This year Tomo and her friends will stop at nothing to catch the culprit. Byakko and Seiryu have teamed up to find the murderer as well. If they win, they will use that against Tomo and her friends to prove she is unworthy. Help us solve the mystery before they do! Prizes will be awarded for the first 3 teams to solve the mystery correctly.
Summer Matsuri
Seiryu thinks Tomo has gotten too far away from her roots... So she's planning the best Summer themed Matsuri that she can imagine. Come play your old favorites and a few new games for fun, glory, and bragging rights! We also will have yukata to dress up in for our photo op!
Dance Lessons
Are you ready to heat up the dance floor, but need to refresh your dance moves? We've got you covered with not one, but two dance lessons provided by instructors from the Overland Park Ballroom. Space is limited so please arrive early!
Our returning dance instructors are local to the Overland Park, KS area. Harrison and his partner are instructors with the Overland Park Ballroom not far from the Naka-kon Venue.
Drydock Blitzball
Some of the Yokai have suggested challenging Seiryu and Byakko to a game of Drydock Blitzball. Based on the Final Fantasy X game, but adapted to be played on land so we don't drown. Teams will need to have 6 players and the rules will be explained at the event. Its Tomo's final battle!
Charity Ball
Naka-kon requests the honor of your presence at this year's Charity Ball. Tickets are for sale at the special events ticketing area of Registration and proceeds will go to support our charity efforts.
Formal attire is required and is described below. Masks are not required. Read more here.